Congratulations to our new certified directors Harriet and Marie from Harmony Heights!
Take part of the ceremony in this video below, diploma and the DCP pin is given to this great ladies! 
---
2020 VC On-Demand 

In case you missed the virtual convention this weekend, don't be sad! All is possible to watch afterwords! Just follow this link and enjoy! 
---
Rönninge Show Chorus perfoms at the Sweet Adelines Virtual event 15 -17th October!  
Read all the story about the gold medal journey just click on the picture below (in swedish) 
Full schedule for this weekend here!   and access the event here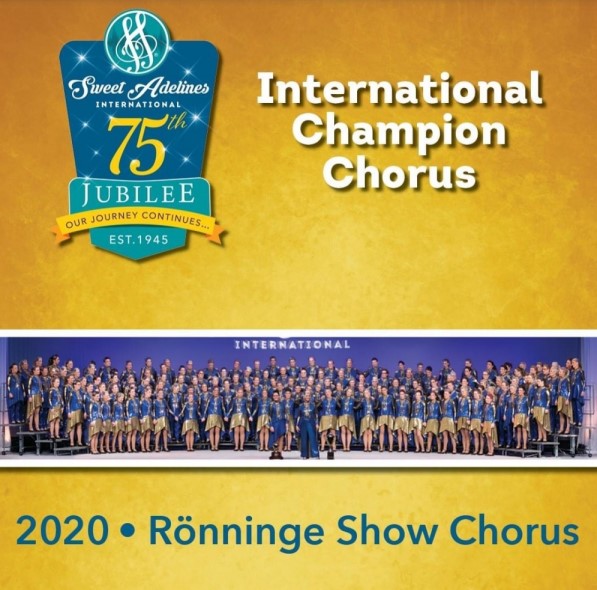 ---
Maria Ovesson wrote this article to SAI
Sweet Adelines International is celebrating 75th anniversary and publishing several nominees and not only this great article from Maria Ovesson about the history how it began in the nordic light Maria Ovesson and Inger Lindstrand also got the Ann Goch Award, 2008 and 2002. And Maria wrote this great article about the very first steps to build a chorus :
Start of Sweet Adelines in Sweden
In 1975 I sang in a church choir. A friend of mine – Inger Lindstrand – also sang in the choir and we started talking about how fun it would be to have some music arrangements for female voices. She told me that she had lived in the US (Cedar Rapids) for a year in the mid-sixties and she had met a woman called Sally Eggleston and heard her chorus. She absolutely loved the harmony and she remembered having heard the name Sweet Adelines but that was all she knew.
1975 was of course before Internet and Google but I had a friend in Kalamazoo, Michigan that I wrote to and asked if she had heard about something called Sweet Adelines. She answered that she had found Kalamazoo Chapter of Sweet Adelines and from them she got the address to Sweet Adelines Inc in Tulsa Oklahoma.
Inger and I met to write a letter to Sweet Adelines and ask if we could buy some sheet music (at that point we had no intention of starting a chorus). After a month we received, not only a letter back, but a big package containing all kinds of material – Steps towards chartering, an issue of the Pitch Pipe, order forms and sheet music – Voice of Harmony.
We ordered the 1975 convention record, some sheet music and a folio with songs, gathered 6 more friends and started to learn 'the Voice of Harmony' and when we later received the record we could finally hear the beautiful barbershop sound for the first time!
We decided that Inger should be our musical leader and I should be in charge of the administration.
The word spread to other choruses in Södertälje that we had started a small group of eight women singing barbershop and soon we were 22 members and started our journey towards chartering as the Prospective Telge Chorus.
We decided to go to the International convention in London 1977 to find out more about the organisation and when Sweet Adelines invited us to sing in Royal Albert Hall and receive our charter we of course accepted.
Of the 22 charter members in Telge Chapter there are three of us still active in Sweet Adelines but now in Rönninge Show Chorus- Britt-Helene Bonnedahl, Ulla Nyman and myself Maria Ovesson.
In Region #32, Nordic Light Region, we now have more than 1000 members in 19 choruses. We have 2 Queens of Harmony Quartets Growing Girls (1989)and Salt (2007) and 2/4 of Swinglish Mix (2003).
The International championship chorus Rönninge Show Chorus has won the gold medal three times.
When I think of the 45 years that have past since our first letter I smile at the memory of how we just wanted some sheet music.
Södertälje February 8, 2020
Maria Ovesson
Co-founder of Telge Chorus
Co-founder of Rönninge Show Chorus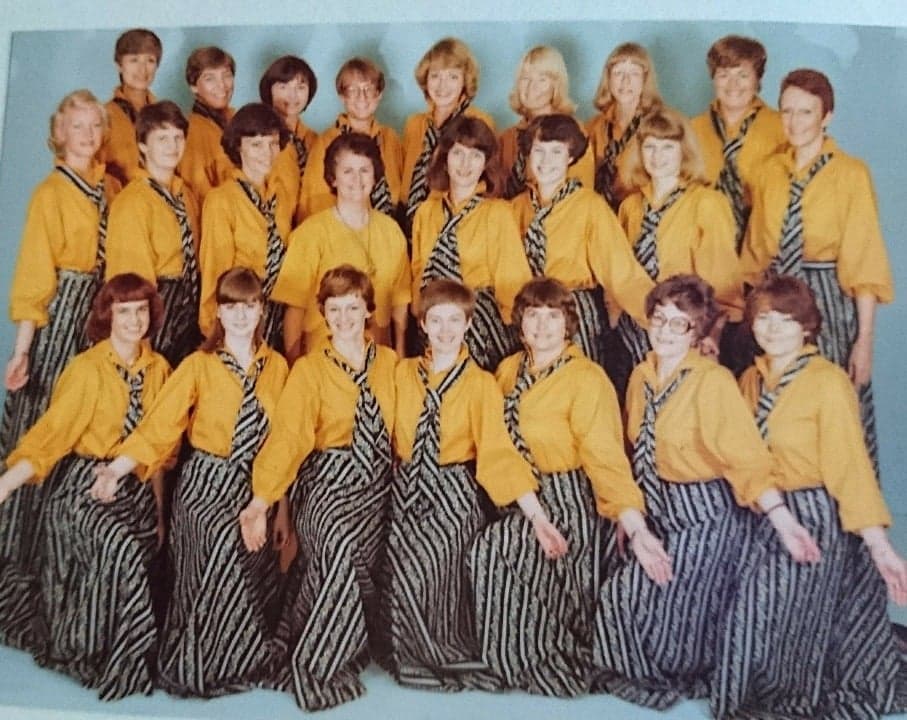 ---
Great upcoming events this autumn!
As a part of the pandemi around the world we know it is strange times and not what we are used to but we are working hard in the background to give all our
members a great autumn to look forward to. 
As usual the director seminar is going to be the last weekend in August, but in a digital way. Watch your e-mail box for the invitation. PS.Only for the directors.
And we have great  news that in Co with SNOBS and Nordic Light Region we are invited to this spectacular day 26th September! See this flyer about the great
program!  

Read more about the future events on our Facebook, Instagram or here at the website!.
---

Have a great summer!
We wish all our members a nice, relaxing summer and a safe one with recommendations due to COVID19!
This spring brings us all new experiences how to run our choruses in a new digital way and with success though
if we look at the curcomstances were in! 
The app Zoom has go warm with all choruses, all digital regional meetings and also a great educational webinar was hold in May
when the regionals was suppose to be in Helsingborg. We stand strong thrue this virus and are doing that in Autumn!
See the events schedule! Directors event, Snobs event, educational event for all members (Music School goes digital) and 
much more the coming autumn/winter/spring-21!
Stay safe and take care and enjoy the summer time!
Best regards
Regional Management Team
---
Our new logo is here!!
Let us present our new logo Design by Anna Rosenberg Adlerstam !
We proudly present the Nordic Light Region new logo with lovely colourful theme in banners and
are a recurring thread in all our site! We love to represent the new, fresh and open minded region!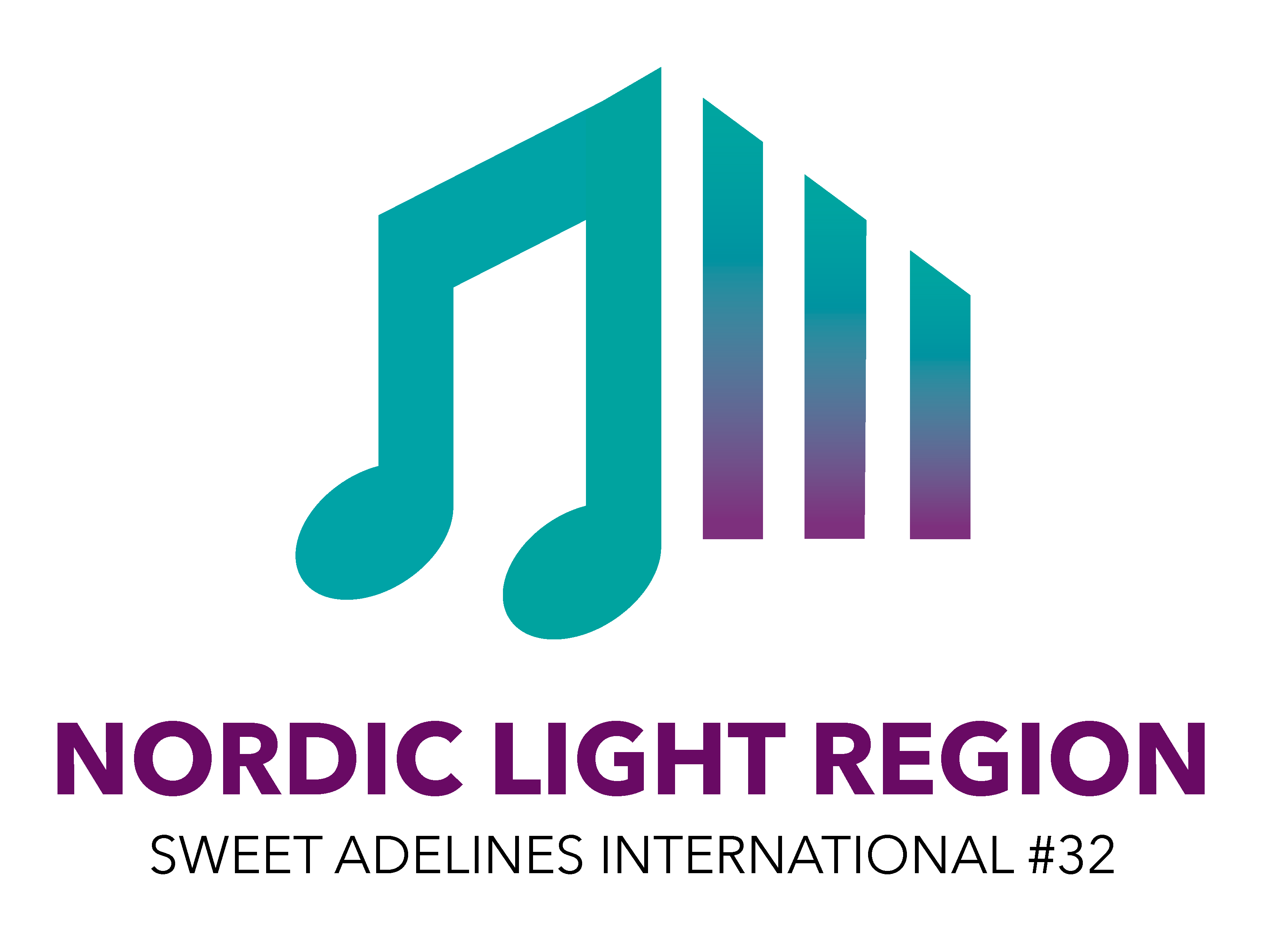 Colours represents also the nordic colours and that we are the shining star in a cappella harmony!
---
Regional convention 2020  is cancelled!
Sweet Adelines have cancelled all regional competitions 2020 due to the Corona (COVID19) .
We hope that other official future events will be reality, we are following updates and all
information regularly.
Regards
Regional Management Team 
---
New prospective chorus in Region 32!
We are pleased to introduce the newest chorus in our family, WonderAros from Denmark!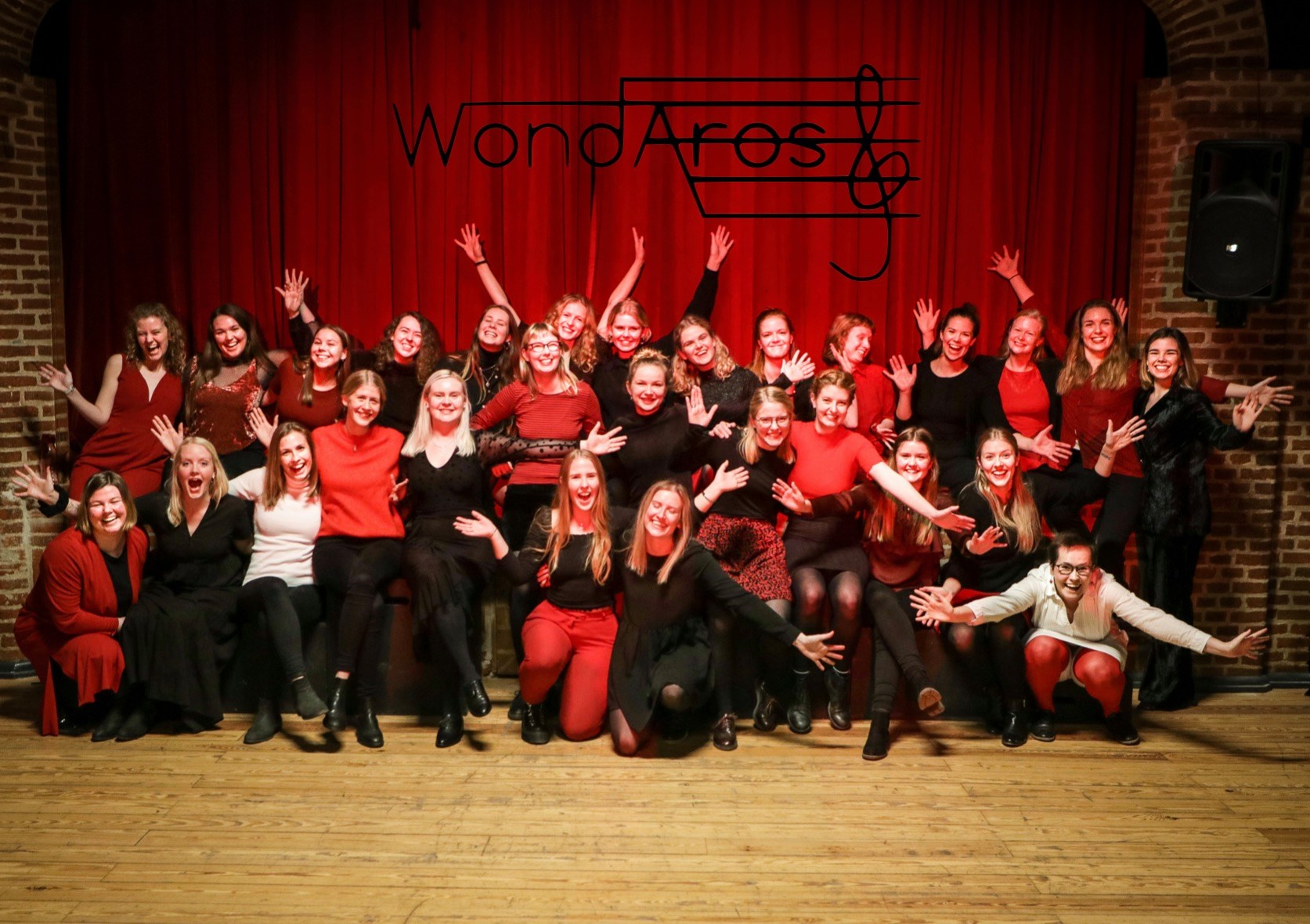 We wish them welcome to Nordic Light Region and give them all good luck! A lot of new friendship
will bond in this region! Follow them on Facebook
---
International Goldmedalists Rönninge Show Chorus!
With Made In Sweden Rönninge Show Chorus gave Swedish music
 a new a cappella experience in their great show in the finals, New Orleans September 2019.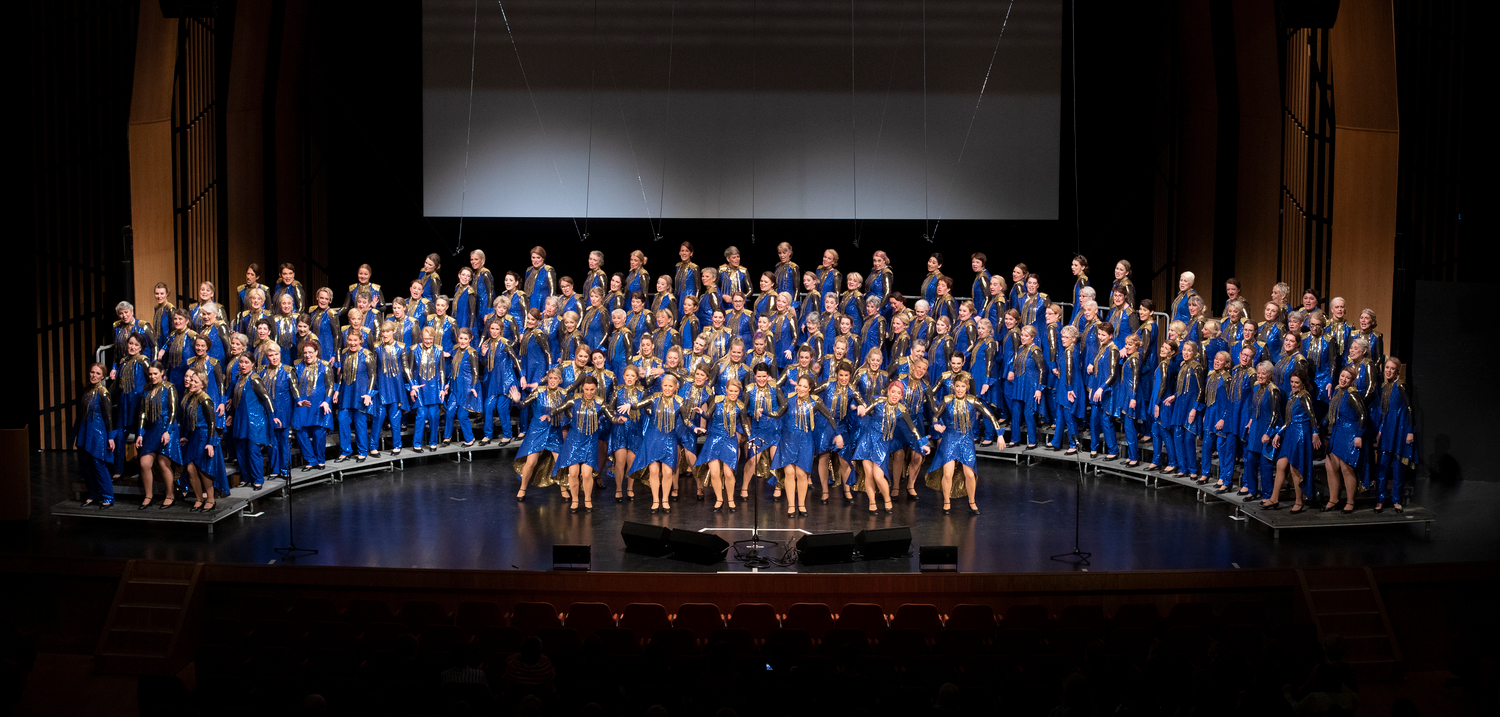 This was the final performance for Britt-Helen Bonnedahl the fonder of the chorus at
internationals as a director of the chorus. But what a great end for this fabolous woman to
win the gold for the third time in row with Rönninge Show Chorus.
See their performance here at Youtube
The chorus world will get great coaching times as well as Rönninge Show Chorus.
 
---
Regional Champions May 2019
1st place chorus Pearls of the Sound  687p
1st place quartet Ambush 662p